Alpha Analytical recognizes the challenges of conducting routine water sampling in a highly competitive market. We aim to provide the newest updates regarding our services our analytical services.
Beginning on April 22, 2019, Alpha began preparing bottle orders using low volume containers for water sample analysis for Total Petroleum Hydrocarbons Diesel Range Organics (TPH-DRO) by 8015-mod, and 1,4-Dioxane by 8270D-SIM Isotope Dilution. Previously in July 2018, Alpha implemented the low volume container approach for water sample analysis for Pesticides (by 8081), PCBs (by 8082), and Semi-Volatiles (by 8270).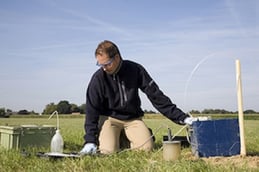 Alpha's Low Volume approach to specific extractable water sample analysis will reduce sample collection efforts, minimize the use of organic solvents, and reduce waste. Use of this technique employs the same methods and maintains Alpha's high-quality standards.

For more information on the benefits, the processes used to validate the change in analytical approach, and the bottle requirements to support LVI, visit our website.